Experience Points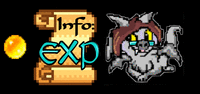 At the End of Each Night Exp Points will be awarded.

Exp points can only be spent at the end of Each Game Night

[Send The ST a PM or Comment under your Experience Tracker in your PF if you wish to spend EXP]

Check the Announcement Board for the Beginning and End Dates of each nights.
Experience is gained as followed.. (+5 Exp Max a night)
1 pt for Being Active
(Being Active on the Site,  Playing frequently, more than a few times a month.)
1 pt for Good Role Playing 
(Engaging in the Story, helping the story progress, & Not giving one-liners!)
1 pt for overcoming a Tough or Dangerous situations 
(Facing a tough obstacles, Over coming challenges that may lead to death or dismemberment)
 1 pt for Problem Solving 
(Finding a solution to a problem presented to you)
1 pt  Team Work (with Other PC's)
( Working with the Other PC's to resolve a problem, complete quests / tasks  or overcome tremendous odds)
:littledeath:
Extra Points 'Might' be given for ....
Impressing the ST with good Role Play & Story
(Succeeding at impressive acts within the Game world to further the story)

Keeping Notes in your PF

(Notes are a great way to keep track of what's going in the game world, and if your notes are informative, and keep track of things you learn, you 'might' get a extra exp from me)
:littledeath:
Spending Exp
Exp Can Be Spent at the End of Each Night (Game Nights)

You can ONLY spend Exp on Attributes, Abilities or Advantages that you have used in game.

To raise a Attributes, Abilities or Advantages you must use them a min of 5x in Game. (ST will Keep Track of This)
Exp can not be used to buy backgrounds or merits.

---
Permissions in this forum:
You
cannot
reply to topics in this forum